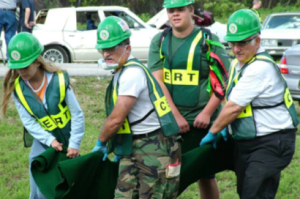 The Guttenberg Community Emergency Response Team (CERT) will be holding it's fall basic training class for new members.  Please sign up now if you'd like to join this class, as the class will be limited to on 15 applicants.  To apply, please send an email to Recruit@GuttenbergCERT.org
The CERT Basic Training class will provide you with training on First Aid, Light Search & Rescue, Disaster Counseling, and how to put out small fires.  Additionally, the course will help prepare you so you can educate your family and friends on how to prepare for any disasters, and what to do in such a situation.
The training is free, and is open to anyone.  The training may save your life, the lives of your family, and friends and neighbors.  If you know anyone who would be interested, please share this with them.  Join a group of dedicated volunteers willing to help their neighbors during times of crisis.